Paket: wine (7.0~repack-4)
Länkar för wine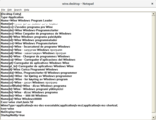 Debianresurser:
Hämta källkodspaketet wine:
Ansvariga:
Externa resurser:
Liknande paket:
Windows API implementation - standard suite
Wine is a free MS-Windows API implementation.
This package provides essential wrappers and convenience tools for the standard Wine components. It also employs the Debian alternatives system to provide the usual command names, e.g. "wine" instead of "wine-stable".
Paket som tillhandahåller wine
Windows API implementation - standard suite
Andra paket besläktade med wine
Hämta wine
Hämtningar för alla tillgängliga arkitekturer

| Arkitektur | Paketstorlek | Installerad storlek | Filer |
| --- | --- | --- | --- |
| all | 139,4 kbyte | 199,0 kbyte | [filförteckning] |