Paketti: wine (7.0~repack-4)
Links for wine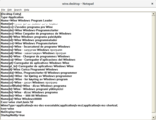 Debian-palvelut:
Imuroi lähdekoodipaketti wine:
Ylläpitäjät:
External Resources:
Samankaltaisia paketteja:
Windows API implementation - standard suite
Wine is a free MS-Windows API implementation.
This package provides essential wrappers and convenience tools for the standard Wine components. It also employs the Debian alternatives system to provide the usual command names, e.g. "wine" instead of "wine-stable".
Paketit, jotka toteuttavat paketin wine
Windows API implementation - standard suite
Windows API implementation - standard suite
Muut pakettiin wine liittyvät paketit
Imuroi wine
Imurointi kaikille saataville arkkitehtuureille

| Arkkitehtuuri | Paketin koko | Koko asennettuna | Tiedostot |
| --- | --- | --- | --- |
| all | 139.4 kt | 199.0 kt | [tiedostoluettelo] |