Paketti: gnome-core (1:3.38+3)
Links for gnome-core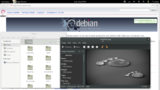 Debian-palvelut:
Imuroi lähdekoodipaketti meta-gnome3:
Ylläpitäjät:
Samankaltaisia paketteja:
GNOME Desktop Environment -- essential components
These are the core components of the GNOME Desktop environment, an intuitive and attractive desktop.
This metapackage depends on a basic set of programs, including a file manager, an image viewer, a web browser, a video player and other tools.
It contains the official "core" modules of the GNOME desktop.
Muut pakettiin gnome-core liittyvät paketit
automatic proxy configuration management library (Network Manager plugin)

network management framework (GNOME frontend)
sug:

gnome

Full GNOME Desktop Environment, with extra components