Package: libc6 (2.34-0experimental4 and others)
Links for libc6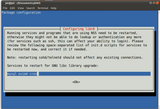 Debian Resources:
Download Source Package glibc:
Maintainers:
External Resources:
Similar packages:
Experimental package
Warning: This package is from the experimental distribution. That means it is likely unstable or buggy, and it may even cause data loss. Please be sure to consult the changelog and other possible documentation before using it.
GNU C-bibliotek: Delte biblioteker
Indeholder standardbibliotekerne, der benyttes af stort set alle systemets programmer. Heriblandt findes delte udgaver af C's standardbibliotek og C's matematikbibliotek.
Packages providing libc6
GNU C Library: Shared libraries - udeb
Other Packages Related to libc6
dep:

libgcc-s1 [not hppa, m68k]

GCC støttebibliotek

dep:

libgcc-s2 [m68k]

GCC støttebibliotek

dep:

libgcc-s4 [hppa]

GCC støttebibliotek
rec:

libidn2-0 (>= 2.0.5~)

Internationaliserede domænenavne (IDNA2008/TR46) - bibliotek
Download libc6
Download for all available architectures

| Architecture | Version | Package Size | Installed Size | Files |
| --- | --- | --- | --- | --- |
| amd64 | 2.34-0experimental4 | 2,697.3 kB | 12,444.0 kB | [list of files] |
| arm64 | 2.34-0experimental4 | 2,392.6 kB | 10,234.0 kB | [list of files] |
| armel | 2.34-0experimental4 | 2,265.1 kB | 9,368.0 kB | [list of files] |
| armhf | 2.34-0experimental4 | 2,270.1 kB | 8,164.0 kB | [list of files] |
| hppa (unofficial port) | 2.34-0experimental3 | 2,353.4 kB | 11,247.0 kB | [list of files] |
| i386 | 2.34-0experimental4 | 2,726.9 kB | 12,262.0 kB | [list of files] |
| m68k (unofficial port) | 2.34-0experimental4 | 2,208.8 kB | 8,886.0 kB | [list of files] |
| mips64el | 2.34-0experimental3 | 2,465.9 kB | 11,183.0 kB | [list of files] |
| mipsel | 2.34-0experimental3 | 2,357.5 kB | 9,410.0 kB | [list of files] |
| ppc64 (unofficial port) | 2.34-0experimental4 | 2,581.9 kB | 24,902.0 kB | [list of files] |
| ppc64el | 2.34-0experimental4 | 2,803.7 kB | 24,981.0 kB | [list of files] |
| riscv64 (unofficial port) | 2.34-0experimental4 | 2,399.3 kB | 8,506.0 kB | [list of files] |
| s390x | 2.34-0experimental4 | 2,377.1 kB | 10,673.0 kB | [list of files] |
| sh4 (unofficial port) | 2.34-0experimental4 | 2,496.0 kB | 8,572.0 kB | [list of files] |
| x32 (unofficial port) | 2.34-0experimental4 | 2,697.2 kB | 11,580.0 kB | [list of files] |