Пакет: gnome (1:3.38+3)
Връзки за gnome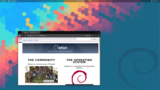 Ресурси за Debian:
Изтегляне на пакет-източник meta-gnome3.
Отговорници:
Подобни пакети:
Full GNOME Desktop Environment, with extra components
This is the GNOME Desktop environment, an intuitive and attractive desktop, with extra components.
This metapackage depends on the standard distribution of the GNOME desktop environment, plus a complete range of plugins and other applications integrating with GNOME and Debian, providing the best possible environment to date.
Други пакети, свързани с gnome
Изтегляне на gnome
Изтегляне за всички налични архитектури

| Архитектура | Големина на пакета | Големина след инсталиране | Файлове |
| --- | --- | --- | --- |
| amd64 | 26,9 кБ | 35,0 кБ | [списък на файловете] |
| arm64 | 26,9 кБ | 35,0 кБ | [списък на файловете] |
| armel | 26,9 кБ | 35,0 кБ | [списък на файловете] |
| armhf | 26,9 кБ | 35,0 кБ | [списък на файловете] |
| i386 | 26,9 кБ | 35,0 кБ | [списък на файловете] |
| mips64el | 26,9 кБ | 35,0 кБ | [списък на файловете] |
| mipsel | 26,9 кБ | 35,0 кБ | [списък на файловете] |
| ppc64el | 26,9 кБ | 35,0 кБ | [списък на файловете] |
| s390x | 26,9 кБ | 35,0 кБ | [списък на файловете] |