[ stretch ]
软件包:klinkstatus(4:16.04.3-1 以及其他的)
klinkstatus 的相关链接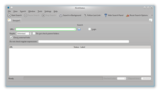 Debian 的资源:
维护小组:
外部的资源:
相似软件包:
web link validity checker
KLinkStatus is KDE's web link validity checker. It allows you to search internal and external links throughout your web site. Simply point it to a single page and choose the depth to search.
You can also check local files, or files over ftp:, fish: or any other KIO protocols. For performance, links can be checked simultaneously.
This package is part of KDE web development module.
下载 klinkstatus
下载可用于所有硬件架构的

| 硬件架构 | 版本 | 软件包大小 | 安装后大小 | 文件 |
| --- | --- | --- | --- | --- |
| amd64 | 4:16.04.3-1+b2 | 554.7 kB | 1,305.0 kB | [文件列表] |
| arm64 | 4:16.04.3-1+b2 | 521.5 kB | 1,288.0 kB | [文件列表] |
| armel | 4:16.04.3-1+b2 | 524.7 kB | 1,172.0 kB | [文件列表] |
| armhf | 4:16.04.3-1+b2 | 519.1 kB | 1,000.0 kB | [文件列表] |
| i386 | 4:16.04.3-1+b2 | 580.6 kB | 1,339.0 kB | [文件列表] |
| mips | 4:16.04.3-1+b2 | 518.7 kB | 1,364.0 kB | [文件列表] |
| mips64el | 4:16.04.3-1+b2 | 526.0 kB | 1,459.0 kB | [文件列表] |
| mipsel | 4:16.04.3-1+b2 | 523.3 kB | 1,364.0 kB | [文件列表] |
| ppc64el | 4:16.04.3-1+b2 | 527.0 kB | 1,504.0 kB | [文件列表] |
| s390x | 4:16.04.3-1+b2 | 545.7 kB | 1,429.0 kB | [文件列表] |