Пакунок: chroma (1.19-2)
Links for chroma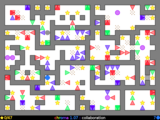 Debian Resources:
Download Source Package chroma:
Maintainer:
External Resources:
Similar packages:
Abstract puzzle game - graphical version
Chroma is an abstract puzzle game. A variety of colourful shapes are arranged in a series of increasingly complex patterns, forming fiendish traps that must be disarmed and mysterious puzzles that must be manipulated in order to give up their subtle secrets. Initially so straightforward that anyone can pick it up and begin to play, yet gradually becoming difficult enough to tax even the brightest of minds. Have you got what it takes to solve Chroma?
A terminal-based version of this game is available in the 'chroma-curses' package.
Інші пакунки пов'язані з chroma
Завантажити chroma
Завантаження для всіх доступних архітектур

| Архітектура | Розмір пакунка | Розмір після встановлення | Файли |
| --- | --- | --- | --- |
| i386 | 1,799.8 kB | 3,141.0 kB | [список файлів] |