Пакунок: juffed (0.10-89-g3690b60-5 and others)
Links for juffed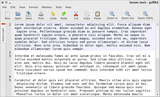 Debian Resources:
Download Source Package juffed:
Maintainers:
External Resources:
Similar packages:
Lightweight yet powerful Qt text editor
JuffEd is a simple, cross-platform text editor written using the Qt toolkit and the QScintilla library. It supports most features found in modern text editors, including syntax highlighting, bracket matching, switching encodings, sessions, and a plugin API.
This package contains the JuffEd editor.
Інші пакунки пов'язані з juffed
dep:

libc6 (>= 2.28)

Бібліотека GNU C: спільні бібліотеки
also a virtual package provided by libc6-udeb

dep:

libenca0 (>= 1.9)

Надзвичайно наївний аналізатор кодування символів — файли колективної бібліотеки

dep:

libgcc1 (>= 1:3.5)

Пакунок недоступний

dep:

libqscintilla2-qt5-15 (>= 2.11.2)

Qt5 port of the Scintilla source code editing widget

dep:

libqt5core5a (>= 5.5.0)

Qt 5 — стрижневий модуль

dep:

libqt5gui5 (>= 5.7.0)

Qt 5 — модуль ГІК

or libqt5gui5-gles (>= 5.7.0)

Qt 5 GUI module — OpenGL ES variant

dep:

libqt5network5 (>= 5.0.2)

Qt 5 — мережевий модуль

dep:

libqt5printsupport5 (>= 5.0.2)

Qt 5 print support module

dep:

libqt5widgets5 (>= 5.11.0~rc1)

Qt 5 widgets module

dep:

libqt5xml5 (>= 5.0.2)

Qt 5 — модуль XML

dep:

libstdc++6 (>= 5)

Стандартна бібліотека C++ GNU, версії 3
rec:

enca

Невигадливий Аналізатор Кодування — двійкові файли

rec:

juffed-plugins

Lightweight yet powerful Qt text editor - plugins
Завантажити juffed
Завантаження для всіх доступних архітектур

| Архітектура | Версія | Розмір пакунка | Розмір після встановлення | Файли |
| --- | --- | --- | --- | --- |
| armel | 0.10-89-g3690b60-5+b1 | 469.6 kB | 1,725.0 kB | [список файлів] |