Paket: apache2 (2.4.25-3+deb9u13 ve diğerleri) [security]
apache2 için bağlantılar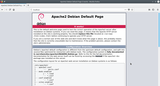 Debian Kaynakları:
apache2 Kaynak Paketini İndir:
Geliştiriciler:
Dış Kaynaklar:
Benzer paketler:
Apache HTTP Server
The Apache HTTP Server Project's goal is to build a secure, efficient and extensible HTTP server as standards-compliant open source software. The result has long been the number one web server on the Internet.
Installing this package results in a full installation, including the configuration files, init scripts and support scripts.
apache2 ile İlgili Diğer Paketler
apache2 indir
Tüm mevcut mimariler için indir

| Mimari | Sürüm | Paket Boyutu | Kurulu Boyut | Dosyalar |
| --- | --- | --- | --- | --- |
| amd64 | 2.4.25-3+deb9u13 | 231,5 kB | 579,0 kB | [dosya listesi] |
| arm64 | 2.4.25-3+deb9u13 | 231,5 kB | 579,0 kB | [dosya listesi] |
| armel | 2.4.25-3+deb9u13 | 231,5 kB | 579,0 kB | [dosya listesi] |
| armhf | 2.4.25-3+deb9u13 | 231,5 kB | 579,0 kB | [dosya listesi] |
| i386 | 2.4.25-3+deb9u13 | 231,5 kB | 579,0 kB | [dosya listesi] |
| mips | 2.4.25-3+deb9u9 | 231,0 kB | 578,0 kB | [dosya listesi] |
| mips64el | 2.4.25-3+deb9u9 | 231,0 kB | 578,0 kB | [dosya listesi] |
| mipsel | 2.4.25-3+deb9u9 | 231,0 kB | 578,0 kB | [dosya listesi] |
| ppc64el | 2.4.25-3+deb9u9 | 231,0 kB | 578,0 kB | [dosya listesi] |
| s390x | 2.4.25-3+deb9u9 | 231,0 kB | 578,0 kB | [dosya listesi] |