Paket: surf (0.7-2)
Länkar för surf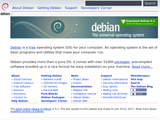 Debianresurser:
Hämta källkodspaketet surf:
Ansvarig:
Externa resurser:
Liknande paket:
Simple web browser by suckless community
surf is a simple web browser based on WebKit/GTK+. It is able to display websites and follow links. It supports the XEmbed protocol which makes it possible to embed it in another application. Furthermore, one can point surf to another URI by setting its XProperties.
Andra paket besläktade med surf
Hämta surf
Hämtningar för alla tillgängliga arkitekturer

| Arkitektur | Paketstorlek | Installerad storlek | Filer |
| --- | --- | --- | --- |
| amd64 | 21,8 kbyte | 68,0 kbyte | [filförteckning] |
| arm64 | 20,5 kbyte | 68,0 kbyte | [filförteckning] |
| armel | 21,9 kbyte | 63,0 kbyte | [filförteckning] |
| armhf | 20,5 kbyte | 51,0 kbyte | [filförteckning] |
| i386 | 23,2 kbyte | 63,0 kbyte | [filförteckning] |
| mips | 21,6 kbyte | 66,0 kbyte | [filförteckning] |
| mips64el | 21,8 kbyte | 72,0 kbyte | [filförteckning] |
| mipsel | 21,8 kbyte | 66,0 kbyte | [filförteckning] |
| ppc64el | 21,6 kbyte | 88,0 kbyte | [filförteckning] |
| s390x | 22,2 kbyte | 76,0 kbyte | [filförteckning] |