Package: slrn (1.0.3+dfsg-3)
Links for slrn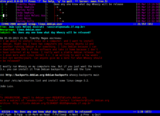 Debian Resources:
Download Source Package slrn:
Maintainer:
External Resources:
Similar packages:
threaded text-mode news reader
Slrn is a threaded news reader with color support that is designed to read news fast over slow links.
Slrn can read usenet news via NNTP or directly from a local news spool.
Slrn can be heavily customized from its rc file, and even includes a built in macro language. There is also support for killfiles and article scoring.
Other Packages Related to slrn
sug:

slrnpull

pulls a small newsfeed from an NNTP server
Download slrn
Download for all available architectures

| Architecture | Package Size | Installed Size | Files |
| --- | --- | --- | --- |
| amd64 | 551.9 kB | 1,880.0 kB | [list of files] |
| arm64 | 545.0 kB | 1,899.0 kB | [list of files] |
| armel | 527.8 kB | 1,805.0 kB | [list of files] |
| armhf | 526.7 kB | 1,709.0 kB | [list of files] |
| i386 | 566.5 kB | 1,917.0 kB | [list of files] |
| mips | 544.3 kB | 1,933.0 kB | [list of files] |
| mips64el | 545.8 kB | 1,979.0 kB | [list of files] |
| mipsel | 546.4 kB | 1,933.0 kB | [list of files] |
| ppc64el | 575.3 kB | 2,095.0 kB | [list of files] |
| s390x | 542.3 kB | 1,927.0 kB | [list of files] |