Pakket: geany (1.29-1)
Verwijzigingen voor geany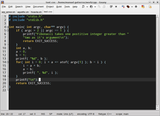 Debian bronnen:
Het bronpakket geany downloaden:
Beheerders:
Externe bronnen:
Vergelijkbare pakketten:
fast and lightweight IDE
Geany is a small and lightweight integrated development environment. It was developed to provide a small and fast IDE, which has only a few dependencies from other packages. It is using only the GTK2 toolkit and therefore you need only the GTK2 runtime libraries to run Geany.
The basic features of Geany are:

 - syntax highlighting
 - code completion
 - auto completion of constructs like if, for and while, XML and HTML
 - call tips
 - folding
 - many supported filetypes like C, Java, PHP, HTML, Python, Perl, Pascal
 - symbol lists
 - embedded terminal emulation

Andere aan geany gerelateerde pakketten
geany downloaden
Pakket downloaden voor alle beschikbare platforms

| Platform | Pakketgrootte | Geïnstalleerde grootte | Bestanden |
| --- | --- | --- | --- |
| amd64 | 1.354,9 kB | 3.294,0 kB | [overzicht] |
| arm64 | 1.224,2 kB | 3.082,0 kB | [overzicht] |
| armel | 1.195,7 kB | 2.905,0 kB | [overzicht] |
| armhf | 1.219,9 kB | 2.233,0 kB | [overzicht] |
| i386 | 1.439,6 kB | 3.516,0 kB | [overzicht] |
| mips | 1.268,0 kB | 3.561,0 kB | [overzicht] |
| mips64el | 1.270,0 kB | 3.805,0 kB | [overzicht] |
| mipsel | 1.283,9 kB | 3.561,0 kB | [overzicht] |
| ppc64el | 1.304,9 kB | 4.056,0 kB | [overzicht] |
| s390x | 1.288,0 kB | 3.615,0 kB | [overzicht] |