Pakket: lynx (2.9.0dev.1-1) [debports]
Verwijzigingen voor lynx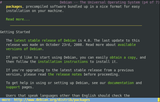 Debian bronnen:
Het bronpakket downloaden:
Niet gevonden
Beheerders:
Externe bronnen:
Vergelijkbare pakketten:
Experimenteel pakket
Warning: This package is from the experimental distribution. That means it is likely unstable or buggy, and it may even cause data loss. Please be sure to consult the changelog and other possible documentation before using it.
classic non-graphical (text-mode) web browser
In continuous development since 1992, Lynx sets the standard for text-mode web clients. It is fast and simple to use, with support for browsing via FTP, Gopher, HTTP, HTTPS, NNTP, and the local file system.
Andere aan lynx gerelateerde pakketten
dep:

libbsd0 (>= 0.0)

utility functions from BSD systems - shared library

dep:

libbz2-1.0

high-quality block-sorting file compressor library - runtime

dep:

libc6 (>= 2.15)

GNU C Bibliotheek: Gedeelde bibliotheken
Ook een virtueel pakket geboden door: libc6-udeb

dep:

libgnutls30 (>= 3.6.6)

GNU TLS library - main runtime library

dep:

libidn11 (>= 1.13)

Pakket niet beschikbaar

dep:

libncursesw6 (>= 6)

shared libraries for terminal handling (wide character support)

dep:

libtinfo6 (>= 6)

shared low-level terminfo library for terminal handling

dep:

lynx-common

shared files for lynx package

dep:

zlib1g (>= 1:1.2.3.3)

compressiebibliotheek - programma's
lynx downloaden
Pakket downloaden voor alle beschikbare platforms

| Platform | Pakketgrootte | Geïnstalleerde grootte | Bestanden |
| --- | --- | --- | --- |
| powerpcspe (unofficial port) | 521,1 kB | 1.738,0 kB | [overzicht] |