Pakket: links (2.19-1) [debports]
Verwijzigingen voor links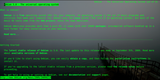 Debian bronnen:
Het bronpakket downloaden:
Niet gevonden
Beheerders:
Externe bronnen:
Vergelijkbare pakketten:
Experimenteel pakket
Warning: This package is from the experimental distribution. That means it is likely unstable or buggy, and it may even cause data loss. Please be sure to consult the changelog and other possible documentation before using it.
Web browser running in text mode
Links is a text mode WWW browser, similar to Lynx. It displays tables, frames, downloads on background, uses HTTP/1.1 keepalive connections.
This version is compiled without graphics mode. See the package links2 for a version with graphics support compiled in.
Andere aan links gerelateerde pakketten
links downloaden
Pakket downloaden voor alle beschikbare platforms

| Platform | Pakketgrootte | Geïnstalleerde grootte | Bestanden |
| --- | --- | --- | --- |
| powerpcspe (unofficial port) | 575,5 kB | 1.825,0 kB | [overzicht] |