Pakket: gnome-core (1:3.30+1)
Verwijzigingen voor gnome-core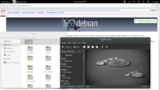 Debian bronnen:
Het bronpakket meta-gnome3 downloaden:
Beheerders:
Vergelijkbare pakketten:
GNOME Desktop Environment -- essential components
These are the core components of the GNOME Desktop environment, an intuitive and attractive desktop.
This metapackage depends on a basic set of programs, including a file manager, an image viewer, a web browser, a video player and other tools.
It contains the official "core" modules of the GNOME desktop.
Andere aan gnome-core gerelateerde pakketten
automatic proxy configuration management library (Network Manager plugin)

Netwerkbeheerder (GNOME)
sug:

gnome

Full GNOME Desktop Environment, with extra components
gnome-core downloaden
Pakket downloaden voor alle beschikbare platforms

| Platform | Pakketgrootte | Geïnstalleerde grootte | Bestanden |
| --- | --- | --- | --- |
| amd64 | 26,2 kB | 34,0 kB | [overzicht] |
| arm64 | 26,2 kB | 34,0 kB | [overzicht] |
| armel | 26,2 kB | 34,0 kB | [overzicht] |
| armhf | 26,2 kB | 34,0 kB | [overzicht] |
| i386 | 26,2 kB | 34,0 kB | [overzicht] |
| mips | 26,2 kB | 34,0 kB | [overzicht] |
| mips64el | 26,2 kB | 34,0 kB | [overzicht] |
| mipsel | 26,2 kB | 34,0 kB | [overzicht] |
| ppc64el | 26,2 kB | 34,0 kB | [overzicht] |
| s390x | 26,2 kB | 34,0 kB | [overzicht] |