パッケージ: wine (5.0.3-3)
wine に関するリンク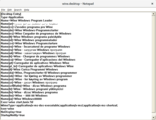 Debian の資源:
wine ソースパッケージをダウンロード:
メンテナ:
外部の資源:
類似のパッケージ:
Windows API implementation - standard suite
Wine is a free MS-Windows API implementation. This is still a work in progress and many applications may still not work.
This package provides essential wrappers and convenience tools for the standard Wine components. It also employs the Debian alternatives system to provide the usual command names, e.g. "wine" instead of "wine-stable".
wine を提供するパッケージ
Windows API implementation - standard suite