Package: sysprof (3.32.0-1) [debports]
Links for sysprof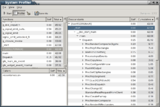 Debian Resources:
Download Source Package :
Not found
Maintainers:
External Resources:
Similar packages:
Experimental package
Warning: This package is from the experimental distribution. That means it is likely unstable or buggy, and it may even cause data loss. Please be sure to consult the changelog and other possible documentation before using it.
strumento di profilazione Linux a livello di intero sistema
Sysprof è uno strumento di profilazione della CPU a campionamento, che usa un ptrace nel kernel Linux per fare la profilazione dell'intero sistema, non solo di una singola applicazione. Sysprof gestisce librerie condivise e le applicazioni non hanno bisogno di essere ricompilate. Di fatto, non hanno nemmeno bisogno di essere riavviate.
Ha le seguenti funzionalità:

 - profilazione di tutti i processi in esecuzione, non solo di
   un'applicazione singola;
 - ha una semplice interfaccia grafica;
 - mostra il tempo speso in ciascun ramo dell'albero delle chiamate;
 - i profili possono essere caricati e salvati.

Other Packages Related to sysprof
semplice sistema di archiviazione della configurazione - backend GSettings
virtual package provided by dconf-gsettings-backend

dep:

libc6 (>= 2.17)

Libreria C GNU: librerie condivise
also a virtual package provided by libc6-udeb

dep:

libcairo2 (>= 1.2.4)

libreria Cairo per grafica 2D vettoriale

dep:

libgcc1 (>= 1:4.2)

Package not available

dep:

libglib2.0-0 (>= 2.47.1)

libreria GLib di routine in C

dep:

libgtk-3-0 (>= 3.22.0)

libreria per interfacce utente grafiche GTK+

dep:

libpango-1.0-0 (>= 1.14.0)

impaginazione e rendering di testo internazionalizzato

dep:

libpangocairo-1.0-0 (>= 1.14.0)

impaginazione e rendering di testo internazionalizzato

dep:

libpolkit-gobject-1-0 (>= 0.99)

polkit Authorization API

dep:

libstdc++6 (>= 4.1.1)

libreria GNU Standard C++, versione 3

dep:

libsystemd0 (>= 221)

libreria di utilità per systemd
Download sysprof
Download for all available architectures

| Architecture | Package Size | Installed Size | Files |
| --- | --- | --- | --- |
| powerpcspe (unofficial port) | 182.9 kB | 1,133.0 kB | [list of files] |