Paquet : chroma (0.8.2-1~bpo10+2)
Liens pour chroma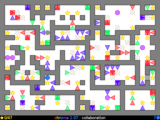 Ressources Debian :
Responsables :
Ressources externes :
Paquets similaires :
general purpose syntax highlighter in pure Go (binaries)
Chroma takes source code and other structured text and converts it into syntax highlighted HTML, ANSI-coloured text, etc.
Chroma is based heavily on Pygments (http://pygments.org/), and includes translators for Pygments lexers and styles.
This package contains the compiled chroma and chromad binaries.
Autres paquets associés à chroma
dep:

libc6 (>= 2.3.6-6~)

bibliothèque C GNU : bibliothèques partagées
un paquet virtuel est également fourni par libc6-udeb
Télécharger chroma
Télécharger pour toutes les architectures proposées

| Architecture | Taille du paquet | Espace occupé une fois installé | Fichiers |
| --- | --- | --- | --- |
| i386 | 4 982,7 ko | 18 993,0 ko | [liste des fichiers] |