[ stretch ]
Paketti: pavuk (0.9.35-6.1)
Links for pavuk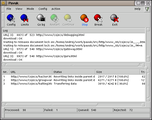 Debian-palvelut:
Imuroi lähdekoodipaketti pavuk:
Ylläpitäjä:
External Resources:
Samankaltaisia paketteja:
Multiprotocol file grabber with textual and graphic control
This is a file grabber, which can work in text and graphical mode. Pavuk is extremely configurable, supports FTP, HTTP, HTTPS and Gopher protocols. Pavuk also supports cookies, HTTP authentication, "robots.txt". You can also use FTP and HTTP proxy caches. Graphical interface is written in Xt or GTK.
Muut pakettiin pavuk liittyvät paketit
Imuroi pavuk
Imurointi kaikille saataville arkkitehtuureille

| Arkkitehtuuri | Paketin koko | Koko asennettuna | Tiedostot |
| --- | --- | --- | --- |
| amd64 | 473.8 kt | 1,859.0 kt | [tiedostoluettelo] |
| arm64 | 428.5 kt | 1,794.0 kt | [tiedostoluettelo] |
| armel | 430.4 kt | 1,676.0 kt | [tiedostoluettelo] |
| armhf | 435.5 kt | 1,536.0 kt | [tiedostoluettelo] |
| i386 | 494.8 kt | 1,909.0 kt | [tiedostoluettelo] |
| mips | 432.6 kt | 1,869.0 kt | [tiedostoluettelo] |
| mips64el | 431.2 kt | 1,946.0 kt | [tiedostoluettelo] |
| mipsel | 435.3 kt | 1,869.0 kt | [tiedostoluettelo] |
| ppc64el | 441.9 kt | 1,994.0 kt | [tiedostoluettelo] |
| s390x | 457.6 kt | 1,951.0 kt | [tiedostoluettelo] |