[ stretch ]
Paketti: netsurf (3.6-3.1)
Links for netsurf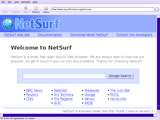 Debian-palvelut:
Imuroi lähdekoodipaketti netsurf:
Ylläpitäjät:
External Resources:
Samankaltaisia paketteja:
small web browser with CSS support - transitional package
NetSurf is a multi-platform lightweight web browser. Its aim is to provide comprehensive rendering of HTML 5 with CSS 2 in a small resource footprint while remaining fast.
This is a transitional package and can safely be removed.
Muut pakettiin netsurf liittyvät paketit
dep:

netsurf-gtk

small web browser with CSS support for GTK
Imuroi netsurf
Imurointi kaikille saataville arkkitehtuureille

| Arkkitehtuuri | Paketin koko | Koko asennettuna | Tiedostot |
| --- | --- | --- | --- |
| all | 7.2 kt | 22.0 kt | [tiedostoluettelo] |