Paketti: kdevelop-php (5.0.3-1)
Links for kdevelop-php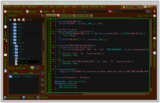 Debian-palvelut:
Imuroi lähdekoodipaketti kdevelop-php:
Ylläpitäjät:
External Resources:
Samankaltaisia paketteja:
PHP plugin for KDevelop
KDevelop is an easy to use integrated development environment for KDE. It supports a wide range of programming languages and features project management, an advanced editor, a class browser and an integrated debugger.
This package contains the PHP language support plugin.
Muut pakettiin kdevelop-php liittyvät paketit
enh:

kdevelop

integrated development environment for KDE
Imuroi kdevelop-php
Imurointi kaikille saataville arkkitehtuureille

| Arkkitehtuuri | Paketin koko | Koko asennettuna | Tiedostot |
| --- | --- | --- | --- |
| amd64 | 829.1 kt | 4,810.0 kt | [tiedostoluettelo] |
| arm64 | 777.7 kt | 4,732.0 kt | [tiedostoluettelo] |
| armel | 785.4 kt | 4,572.0 kt | [tiedostoluettelo] |
| armhf | 791.8 kt | 4,308.0 kt | [tiedostoluettelo] |
| i386 | 872.7 kt | 4,860.0 kt | [tiedostoluettelo] |
| mips | 782.0 kt | 4,848.0 kt | [tiedostoluettelo] |
| mips64el | 787.1 kt | 4,945.0 kt | [tiedostoluettelo] |
| mipsel | 788.5 kt | 4,848.0 kt | [tiedostoluettelo] |
| ppc64el | 790.0 kt | 5,245.0 kt | [tiedostoluettelo] |
| s390x | 806.6 kt | 5,003.0 kt | [tiedostoluettelo] |