Paketti: sysprof (3.22.2-1)
Links for sysprof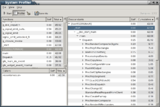 Debian-palvelut:
Imuroi lähdekoodipaketti sysprof:
Ylläpitäjät:
External Resources:
Samankaltaisia paketteja:
system-wide Linux profiler
Sysprof is a sampling CPU profiler that uses a ptrace in Linux kernel to profile the entire system, not just a single application. Sysprof handles shared libraries and applications do not need to be recompiled. In fact they don't even have to be restarted.
It has the following features:

 - profiles all running processes, not just a single application
 - has a simple graphical interface
 - shows the time spent in each branch of the call tree
 - profiles can be loaded and saved

Muut pakettiin sysprof liittyvät paketit
Imuroi sysprof
Imurointi kaikille saataville arkkitehtuureille

| Arkkitehtuuri | Paketin koko | Koko asennettuna | Tiedostot |
| --- | --- | --- | --- |
| amd64 | 371.8 kt | 1,698.0 kt | [tiedostoluettelo] |