Paketti: sysprof (3.32.0-1) [debports]
Links for sysprof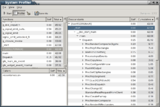 Debian-palvelut:
Imuroi lähdekoodipaketti :
Ei löytynyt
Ylläpitäjät:
External Resources:
Samankaltaisia paketteja:
Kokeellinen paketti
Varoitus: Tämä paketti on kokeellisesta jakelusta. Tämä tarkoittaa, että se on luultavasti epävakaa tai buginen, ja voi aiheuttaa jopa tiedonhäviötä. Kannattaa ehdottomasti tutustua muutoslokiin ja muihin mahdollisiin ohjeisiin ennen käyttöönottoa.
system-wide Linux profiler
Sysprof is a sampling CPU profiler that uses a ptrace in Linux kernel to profile the entire system, not just a single application. Sysprof handles shared libraries and applications do not need to be recompiled. In fact they don't even have to be restarted.
It has the following features:

 - profiles all running processes, not just a single application
 - has a simple graphical interface
 - shows the time spent in each branch of the call tree
 - profiles can be loaded and saved

Muut pakettiin sysprof liittyvät paketit
simple configuration storage system - GSettings back-end
näennäispaketti, jonka toteuttaa dconf-gsettings-backend

dep:

libc6 (>= 2.17)

GNU-C-kirjasto: jaetut kirjastot
myös näennäispaketti, jonka toteuttaa libc6-udeb

dep:

libcairo2 (>= 1.2.4)

Cairo 2D vector graphics library

dep:

libgcc1 (>= 1:4.2)

Paketti ei saatavilla

dep:

libglib2.0-0 (>= 2.47.1)

GLib library of C routines

dep:

libgtk-3-0 (>= 3.22.0)

GTK+ graphical user interface library

dep:

libpango-1.0-0 (>= 1.14.0)

Layout and rendering of internationalized text

dep:

libpangocairo-1.0-0 (>= 1.14.0)

Layout and rendering of internationalized text

dep:

libpolkit-gobject-1-0 (>= 0.99)

polkit Authorization API

dep:

libstdc++6 (>= 4.1.1)

GNU standardi C++ -kirjasto, versio 3

dep:

libsystemd0 (>= 221)

systemd utility library
Imuroi sysprof
Imurointi kaikille saataville arkkitehtuureille

| Arkkitehtuuri | Paketin koko | Koko asennettuna | Tiedostot |
| --- | --- | --- | --- |
| powerpcspe (epävirallinen siirros) | 182.9 kt | 1,133.0 kt | [tiedostoluettelo] |