Paketti: a56 (1.3+dfsg-9)
Links for a56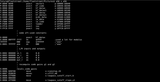 Debian-palvelut:
Imuroi lähdekoodipaketti a56:
Ylläpitäjä:
External Resources:
Samankaltaisia paketteja:
Motorola DSP56001 assembler
a56 is an assembler for the Motorola DSP56001 family of microcontrollers.
It is capable of compiling the firmware used in Linux' dsp56k.c driver.
Example DSP code for musical effects such as chorus, flange, and reverb can be found at http://www.zdomain.com/a56/src/examples/ (unfortunately copyright prevents distribution).
Muut pakettiin a56 liittyvät paketit
dep:

libc6 (>= 2.11)

GNU-C-kirjasto: jaetut kirjastot
myös näennäispaketti, jonka toteuttaa libc6-udeb
Imuroi a56
Imurointi kaikille saataville arkkitehtuureille

| Arkkitehtuuri | Paketin koko | Koko asennettuna | Tiedostot |
| --- | --- | --- | --- |
| armhf | 32.8 kt | 174.0 kt | [tiedostoluettelo] |