Paketti: shake (1.0.2-1.1)
Links for shake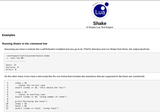 Debian-palvelut:
Imuroi lähdekoodipaketti shake:
Ylläpitäjä:
External Resources:
Samankaltaisia paketteja:
Testing engine for the Lua language version 5.1
The shake utility is a simple and transparent test engine for Lua.
Shake gives concise reports when the tests succeed, while it prints detailed traces when tests fail.
Regular Lua test files, if written using only standard assert and print calls, can be run with shake with no modifications.
This package contains the shake command line utility, the Lua modules that implement shake functionalities and the documentation for both.
Muut pakettiin shake liittyvät paketit
Imuroi shake
Imurointi kaikille saataville arkkitehtuureille

| Arkkitehtuuri | Paketin koko | Koko asennettuna | Tiedostot |
| --- | --- | --- | --- |
| all | 23.1 kt | 80.0 kt | [tiedostoluettelo] |