Paketti: lsb-release (12.0-1)
Links for lsb-release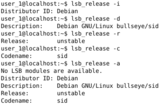 Debian-palvelut:
Ylläpitäjä:
External Resources:
Samankaltaisia paketteja:
Linux Standard Base version reporting utility (minimal implementation)
The Linux Standard Base (http://www.linuxbase.org/) is a standard core system that third-party applications written for Linux can depend upon.
The lsb-release command is a simple tool to help identify the Linux distribution being used and its compliance with the Linux Standard Base.
This package contains a bare-bones implementation that uses the information in /etc/os-release instead of relying on LSB packages.
Imuroi lsb-release
Imurointi kaikille saataville arkkitehtuureille

| Arkkitehtuuri | Paketin koko | Koko asennettuna | Tiedostot |
| --- | --- | --- | --- |
| all | 6.3 kt | 17.0 kt | [tiedostoluettelo] |