Package: literki (0.0.0+20100113.git1da40724-1.2 and others)
Links for literki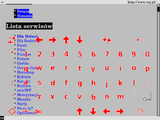 Debian Resources:
Download Source Package literki:
Maintainers:
External Resources:
Similar packages:
Keyboard with configurable layout and transparency
Literki is a full qwerty keyboard with configurable layout and always-on functionality by usage of transparency. Applications do not need to redraw and popping up the keyboard is therefore very fast.
In addition to keyboard, literki comes with touchpad and scroll buttons.
Other Packages Related to literki
dep:

libc6.1 (>= 2.1.3) [alpha]

GNU C Library: Shared libraries
also a virtual package provided by libc6.1-udeb

dep:

libc6.1 (>= 2.26) [ia64]

dep:

libfakekey0 (>= 0.1)

library for converting characters to X key-presses [runtime]

dep:

libfreetype6 (>= 2.2.1)

FreeType 2 font engine, shared library files

dep:

libgcc1 (>= 1:3.0) [not armel, armhf, hppa, ia64, m68k]

Package not available

dep:

libgcc1 (>= 1:3.5) [armel, armhf]

dep:

libgcc1 (>= 1:4.2) [ia64]

dep:

libgcc2 (>= 4.2.1) [m68k]

Package not available

dep:

libgcc4 (>= 4.1.1) [hppa]

Package not available

dep:

libpng12-0 (>= 1.2.13-4) [sh4, sparc64]

Package not available

dep:

libpng16-16 (>= 1.6.2-1) [not sh4, sparc64]

PNG library - runtime (version 1.6)

dep:

libstdc++6 [riscv64]

GNU Standard C++ Library v3

dep:

libstdc++6 (>= 5.2) [not riscv64]

dep:

libunwind8 [ia64]

library to determine the call-chain of a program - runtime

dep:

libx11-6

X11 client-side library

dep:

libxext6

X11 miscellaneous extension library

dep:

libxrandr2

X11 RandR extension library

dep:

libxtst6

X11 Testing -- Record extension library
Download literki
Download for all available architectures

| Architecture | Version | Package Size | Installed Size | Files |
| --- | --- | --- | --- | --- |
| alpha (unofficial port) | 0.0.0+20100113.git1da40724-1.2+b1 | 1,129.0 kB | 3,252.0 kB | [list of files] |
| amd64 | 0.0.0+20100113.git1da40724-1.2+b2 | 1,078.7 kB | 3,090.0 kB | [list of files] |
| arm64 | 0.0.0+20100113.git1da40724-1.2+b2 | 1,048.5 kB | 3,094.0 kB | [list of files] |
| armel | 0.0.0+20100113.git1da40724-1.2+b2 | 1,068.0 kB | 3,073.0 kB | [list of files] |
| armhf | 0.0.0+20100113.git1da40724-1.2+b2 | 1,068.6 kB | 3,005.0 kB | [list of files] |
| hppa (unofficial port) | 0.0.0+20100113.git1da40724-1.2+b1 | 1,105.7 kB | 3,437.0 kB | [list of files] |
| i386 | 0.0.0+20100113.git1da40724-1.2+b2 | 1,085.9 kB | 3,085.0 kB | [list of files] |
| ia64 (unofficial port) | 0.0.0+20100113.git1da40724-1.2 | 1,125.2 kB | 3,384.0 kB | [list of files] |
| m68k (unofficial port) | 0.0.0+20100113.git1da40724-1.2+b1 | 1,075.2 kB | 3,085.0 kB | [list of files] |
| mips64el | 0.0.0+20100113.git1da40724-1.2+b2 | 1,148.2 kB | 3,440.0 kB | [list of files] |
| mipsel | 0.0.0+20100113.git1da40724-1.2+b2 | 1,094.3 kB | 3,386.0 kB | [list of files] |
| ppc64 (unofficial port) | 0.0.0+20100113.git1da40724-1.2+b2 | 1,072.6 kB | 3,290.0 kB | [list of files] |
| ppc64el | 0.0.0+20100113.git1da40724-1.2+b2 | 1,077.3 kB | 3,186.0 kB | [list of files] |
| riscv64 (unofficial port) | 0.0.0+20100113.git1da40724-1.2 | 1,065.5 kB | 3,097.0 kB | [list of files] |
| s390x | 0.0.0+20100113.git1da40724-1.2+b2 | 1,124.6 kB | 3,186.0 kB | [list of files] |
| sh4 (unofficial port) | 0.0.0+20100113.git1da40724-1.2+b1 | 1,070.3 kB | 3,187.0 kB | [list of files] |
| sparc64 (unofficial port) | 0.0.0+20100113.git1da40724-1.2+b1 | 1,076.5 kB | 3,151.0 kB | [list of files] |
| x32 (unofficial port) | 0.0.0+20100113.git1da40724-1.2+b1 | 1,126.4 kB | 3,114.0 kB | [list of files] |