Package: sysprof (3.32.0-1) [debports]
Links for sysprof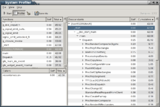 Debian Resources:
Download Source Package :
Not found
Maintainers:
External Resources:
Similar packages:
Experimental package
Warning: This package is from the experimental distribution. That means it is likely unstable or buggy, and it may even cause data loss. Please be sure to consult the changelog and other possible documentation before using it.
system-wide Linux profiler
Sysprof is a sampling CPU profiler that uses a ptrace in Linux kernel to profile the entire system, not just a single application. Sysprof handles shared libraries and applications do not need to be recompiled. In fact they don't even have to be restarted.
It has the following features:

 - profiles all running processes, not just a single application
 - has a simple graphical interface
 - shows the time spent in each branch of the call tree
 - profiles can be loaded and saved

Other Packages Related to sysprof
simple configuration storage system - GSettings back-end
virtual package provided by dconf-gsettings-backend

dep:

libc6 (>= 2.17)

GNU C Library: Shared libraries
also a virtual package provided by libc6-udeb

dep:

libcairo2 (>= 1.2.4)

Cairo 2D vector graphics library

dep:

libgcc1 (>= 1:4.2)

Package not available

dep:

libglib2.0-0 (>= 2.47.1)

GLib library of C routines

dep:

libgtk-3-0 (>= 3.22.0)

GTK+ graphical user interface library

dep:

libpango-1.0-0 (>= 1.14.0)

Layout and rendering of internationalized text

dep:

libpangocairo-1.0-0 (>= 1.14.0)

Layout and rendering of internationalized text

dep:

libpolkit-gobject-1-0 (>= 0.99)

polkit Authorization API

dep:

libstdc++6 (>= 4.1.1)

GNU Standard C++ Library v3

dep:

libsystemd0 (>= 221)

systemd utility library
Download sysprof
Download for all available architectures

| Architecture | Package Size | Installed Size | Files |
| --- | --- | --- | --- |
| powerpcspe (unofficial port) | 182.9 kB | 1,133.0 kB | [list of files] |