Package: sysprof (3.32.0-1) [debports]
Links for sysprof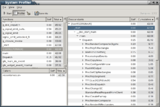 Debian Resources:
Download Source Package :
Not found
Maintainers:
External Resources:
Similar packages:
Experimental package
Warning: This package is from the experimental distribution. That means it is likely unstable or buggy, and it may even cause data loss. Please be sure to consult the changelog and other possible documentation before using it.
Linuxprofileringsprogram for hele systemet
Sysprof er et sampling-CPU-profileringsprogram, som bruger en ptrace i Linuxkernen til at profilere hele systemet, ikke kun et enkelt program. Sysprof håndterer delte biblioteker og programmer skal ikke genkompileres. De skal end ikke genstartes.
Har de følgende funktioner:

 - profilerer alle kørende processer, ikke kun et enkelt program
 - har en simpel grafisk grænseflade
 - viser tiden brugt i hver gren for kald-træet
 - profiler kan indlæses og gemmes

Other Packages Related to sysprof
simpelt lagersystem til konfigurationer - GSettings-motor
virtual package provided by dconf-gsettings-backend

dep:

libc6 (>= 2.17)

GNU C-bibliotek: Delte biblioteker
also a virtual package provided by libc6-udeb

dep:

libcairo2 (>= 1.2.4)

Cairo 2D - vektorgrafikbibliotek

dep:

libgcc1 (>= 1:4.2)

Package not available

dep:

libglib2.0-0 (>= 2.47.1)

GLib-bibliotek for C-rutiner

dep:

libgtk-3-0 (>= 3.22.0)

Grafisk brugergrænsefladebibliotek til GTK+

dep:

libpango-1.0-0 (>= 1.14.0)

Layout og optegning af internationaliseret tekst

dep:

libpangocairo-1.0-0 (>= 1.14.0)

Layout og optegning af internationaliseret tekst

dep:

libpolkit-gobject-1-0 (>= 0.99)

polkit Authorization API

dep:

libstdc++6 (>= 4.1.1)

GNU Standard C++ bibliotek v3

dep:

libsystemd0 (>= 221)

Redskabsbibliotek for systemd
Download sysprof
Download for all available architectures

| Architecture | Package Size | Installed Size | Files |
| --- | --- | --- | --- |
| powerpcspe (unofficial port) | 182.9 kB | 1,133.0 kB | [list of files] |