Пакет: anjuta (2:3.22.0-3)
Връзки за anjuta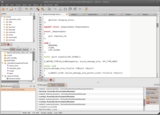 Ресурси за Debian:
Изтегляне на пакет-източник anjuta.
Отговорници:
Външни препратки:
Подобни пакети:
GNOME development IDE, for C/C++
This IDE for C/C++ and GNOME/Gtk+ applications has features that enable easy debugging, management of code and GUI design by providing a simple and usable user interface. It also integrates with version control systems like CVS, Git or Subversion.
Други пакети, свързани с anjuta
Изтегляне на anjuta
Изтегляне за всички налични архитектури

| Архитектура | Големина на пакета | Големина след инсталиране | Файлове |
| --- | --- | --- | --- |
| amd64 | 1 486,2 кБ | 4 785,0 кБ | [списък на файловете] |
| arm64 | 1 291,0 кБ | 4 459,0 кБ | [списък на файловете] |
| armel | 1 301,4 кБ | 4 009,0 кБ | [списък на файловете] |
| armhf | 1 327,8 кБ | 3 390,0 кБ | [списък на файловете] |
| i386 | 1 577,4 кБ | 4 918,0 кБ | [списък на файловете] |
| mips | 1 303,3 кБ | 4 904,0 кБ | [списък на файловете] |
| mips64el | 1 309,1 кБ | 5 186,0 кБ | [списък на файловете] |
| mipsel | 1 323,2 кБ | 4 904,0 кБ | [списък на файловете] |
| ppc64el | 1 356,4 кБ | 6 525,0 кБ | [списък на файловете] |
| s390x | 1 410,0 кБ | 5 302,0 кБ | [списък на файловете] |