Пакет: sysprof (3.22.2-1)
Връзки за sysprof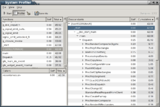 Ресурси за Debian:
Изтегляне на пакет-източник sysprof.
Отговорници:
Външни препратки:
Подобни пакети:
system-wide Linux profiler
Sysprof is a sampling CPU profiler that uses a ptrace in Linux kernel to profile the entire system, not just a single application. Sysprof handles shared libraries and applications do not need to be recompiled. In fact they don't even have to be restarted.
It has the following features:

 - profiles all running processes, not just a single application
 - has a simple graphical interface
 - shows the time spent in each branch of the call tree
 - profiles can be loaded and saved

Други пакети, свързани с sysprof
Изтегляне на sysprof
Изтегляне за всички налични архитектури

| Архитектура | Големина на пакета | Големина след инсталиране | Файлове |
| --- | --- | --- | --- |
| amd64 | 371,8 кБ | 1 698,0 кБ | [списък на файловете] |