Пакет: meld (3.16.4-1)
Връзки за meld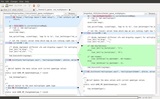 Ресурси за Debian:
Изтегляне на пакет-източник meld.
Отговорници:
Външни препратки:
Подобни пакети:
graphical tool to diff and merge files
Meld is a graphical diff viewer and merge application for the GNOME desktop. It supports 2 and 3-file diffs, recursive directory diffs, diffing of directories under version control (Bazaar, Codeville, CVS, Darcs, Fossil SCM, Git, Mercurial, Monotone, Subversion), as well as the ability to manually and automatically merge file differences.
Други пакети, свързани с meld
rec:

yelp

Help browser for GNOME
Изтегляне на meld
Изтегляне за всички налични архитектури

| Архитектура | Големина на пакета | Големина след инсталиране | Файлове |
| --- | --- | --- | --- |
| all | 484,7 кБ | 3 049,0 кБ | [списък на файловете] |